5 natural amphitheatres
to blow minds, not eardrums
True story: I'm not an acoustical engineer, nor do I play one on TV. But as a blogger for BAP Acoustics, I believe it's safe to say that this former English major has learned more about sound and the sciences thereof than most former English majors do. Coupled with the fact that I'm an eclectic (she understated) music lover who enjoys the outdoors, my summery inspiration to write this article will make perfect sense.
The internationally known Burning Man event that takes place in the Black Rock Desert of Nevada has, in its 31-year existence as a "temporary metropolis", spawned "Regionals" all over the world, as far afield as South Africa, and as close to my Vancouver home as a natural amphitheatre near Princeton, British Colombia.
As longtime participants in Burn in The Forest (BiTF), our local "Burner" community, my partner and I recently came home buoyed not only by those endorphins borne of participation, camaraderie, big art, great music, and dancing, but also a renewed sense of awe at just how sublime even cacophony can sound in a natural amphitheatre. I'll just mention that Burning Man and the Regionals it's inspired are completely volunteer-run. A BiTF ticket pays for the space we temporarily inhabit (and leave cleaner than we found it) and onsite medics. Pretty cool, no? Maybe we'll see you next summer! Okay, now I'll stop pitching and oh-so-gracefully transition to information I hope will tantalize and inspire further research on natural amphitheatres and the properties behind their sonic excellence.
In Nathan Mattise's WIRED article Sound Science: World's Best Outdoor Music Venues, Live-Sound Reinforcer (his actual title) Gary Ford explains "Outdoors there's nothing for sound to bounce off of. Ninety-eight percent of what you hear is the true source without any delay." His company, Ford Audio Service, co-manages sound for the famed (currently on hiatus) Sasquatch Music Festival held each May in Washington State at a riverside natural amphitheatre called the Gorge.
"Ninety-eight percent of what you hear is the true source without any delay," Ford says. "When they're inside arenas and stadiums, sound waves hit various surfaces—roofs, bleachers, concrete floors, and so on—and get deflected or absorbed. If audio engineers calculate all those variables correctly, the listening experience can be immersive. If they get it wrong, you'll hear bass and drums banging at you from all angles at incremental intervals. That's not true in the open."
"Sound-wise, it's easier," adds Mark Carlson, Carlson Audio Systems CEO and Ford's co-manager of sound at Sasquatch. "The PA won't ever sound better than it does outside. The clarity of sound is a breath of fresh air."
So break out your camping gear and read on to learn more about the Gorge and four other acoustic—not to mention visual—wonders of nature.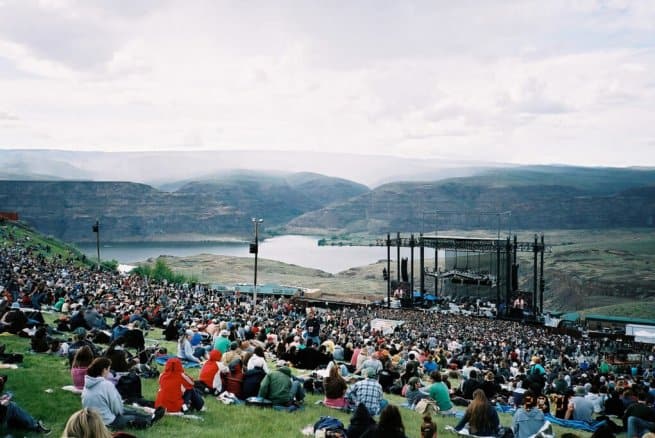 The Gorge, Washington
A Seattle couple who'd initially planned on using the land as a vineyard opened the Gorge Amphitheatre, with a capacity of 20,000, in 1985. It's since become one of the most visited attractions in the Pacific Northwest. Attendees and performers alike rave (no pun intended) about the incredible views. In a Rolling Stone article, Pearl Jam's Mike McCready calls the Gorge his "all-time favorite venue," adding "The stage overlooking the cliff of the Columbia River as the sun goes down – it's very spiritual."'
Snug Lake, BC
A relatively new kid on the outdoor festival block, Snug Lake Amphitheatre encompasses 157 acres of pristine wilderness nestled 40 km north of Princeton, BC, in the Okanagan-Similkameen highlands on the northernmost tip of the Cascade Mountain Range. Property owner Keith Duggan and his partners opened its vistas to the public with the 2016 inaugural Element Music Festival. This year's event just wrapped up at the end of August long weekend, so you've got less than a year to read reviews and plan that road trip.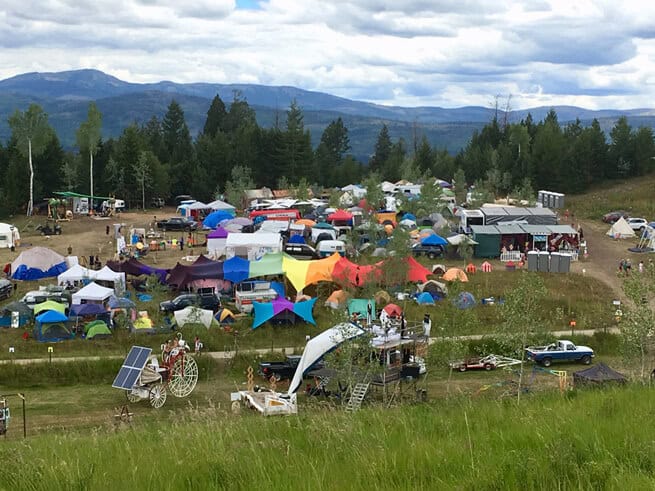 Fortunate enough to have experienced both locations, I'd concur with Duggan's apt comparison of Snug Lake to the world-famous Gorge in Washington State. "It's a little bit smaller, but you can paint that picture," he says to The Georgia Straight's Mike Usinger, who interviewed Duggan for a July 10th, 2017 article. "There's a lake on-site and tons of camping," the music industry veteran adds. "So we did it—we cashed out of Vancouver, we bought this property, and for the last two years we've been developing." This 1-minute aerial video does far greater justice to the site than my photo above.
Shoreline, Mountain Lake, California
Located near the San Francisco Bay area and roughly the size of two football fields, the Shoreline site was a landfill before the city of Mountain View, collaborating with local promoter Bill Graham, built an amphitheatre there in 1985-1986. Fun fact: Graham designed the amphitheatre to resemble The Grateful Dead's "Steal Your Face" logo. Past performers include the Dave Matthews Band, the Bee Gees, and former members of the prog rock group Yes.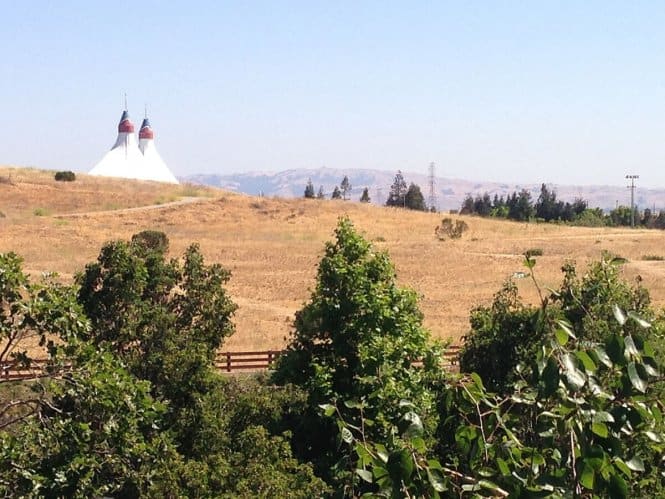 Red Rocks, Morrison, Colorado
This dramatic natural venue just outside Denver, according to Rolling Stone journalist Steve Knopper, can elevate a good show into a totally unforgettable night. Named after its monumental framing boulders, Red Rocks is second in pedigree only to Madison Square Garden as a US venue hosting internationally renowned performers. The Beatles played there in 1964, Jimi Hendrix in 1968, Bruce Springsteen in 1978, and so many more. "Pearl Jam played Red Rocks exactly once, in 1995," Knopper adds, "and they still haven't stopped talking about it." Enamoured of the spectacular venue, Pearl Jam guitarist Mike McCready describes Red Rocks as "just stunning," and laments "We were never able to get there [again]. I don't know why. I want to go back."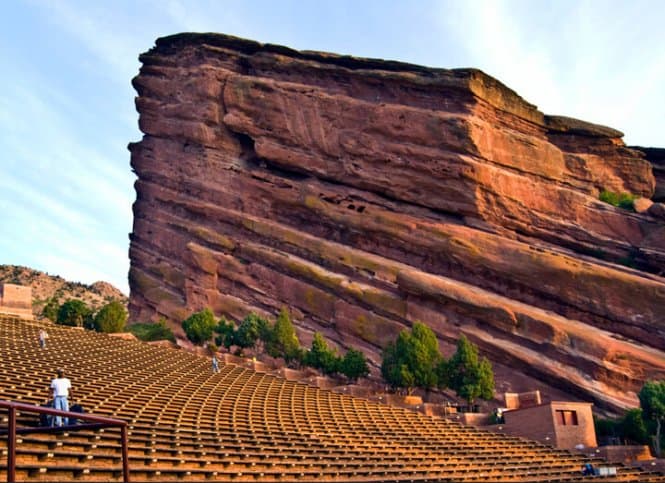 The Greek, Berkley, California
Formally named the William Randolph Hearst Greek Theatre after its financier, this 8,500-seat amphitheatre is known locally as "the Greek". The University of California, Berkeley owns and operates the theatre which was designed to replicate the ancient Greek theatre of Epidaurus. In her article titled The 'Athens of the West', UC Berkeley alum Cathy Cockrell details the Greek's fascinating history from its 1894 origins to present day. The stage from which Teddy Roosevelt once delivered speeches has since that time showcased a diversity of acts, from Tom Petty and the Pixies to Yo-Yo Ma.
With all due respect to Mother Earth…
Savvy engineers do apply their specialized knowledge to work with her and enhance her gifts. It's widely known that the Mother of All Amphitheatres, the ancient Epidaurus in Greece, boasts a structure in which visitors can hear un-amplified speech right up to the very back row.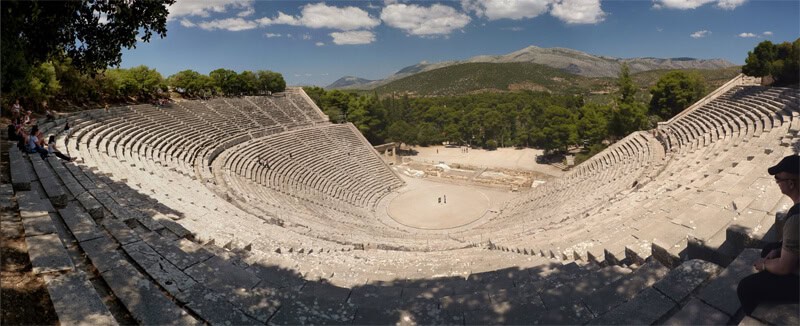 You may assume, as I did until researching for this article, that all the sonic perfection characteristic of amphitheatres comes from natural environment: surrounding slopes, prevailing winds, perhaps even a touch of magic. And for the most part, we'd be right! But not entirely accurate. Not when it comes to the original, the grandest, the best.
It turns out, based on Georgia Institute of Technology research, that many have tried since the 4th century BC to duplicate Epidaurus acoustics, but never quite succeeded. Well, I hope you're sitting on something more comfortable than the corrugated limestone pictured above, because… Eureka! It's the seats!
Georgia Tech prof, acoustician, and ultrasonics expert Nico Declercq led the research ultimately proving that "the rows of limestone seats at Epidaurus form an efficient acoustics filter that hushes low-frequency background noises like the murmur of a crowd and reflects the high-frequency noises of the performers on stage off the seats and back toward the seated audience member, carrying an actor's voice all the way to the back rows of the theater." So now we both know! I'd love to go to Epidaurus someday. But I suspect it's not a campground.
Fancy building your own amphitheatre? Or maybe a house? We invite you to contact us with any and all your acoustic queries.